Unveiling Indigenous Peoples
It's here!!!!
Indigenous Peoples, the unit that has definitely taken the most heart, time, attention, money, and me... is finally finished. I have personally poured into so much of this, form writing and designing to just praying over it. Throughout the creation of this special unit we have faced spiritual warfare more intense than any we have ever published. It has taken a village to get this out: writers and researchers, proofers and artists, designers, etc. It is full of custom beautiful illustrations, deep discussions, and Biblical truth. Every lesson was laboured over and prayed over, and I feel very strongly that this unit is one of the most important ones we have published so far. For the first time ever, Indigenous Peoples is being taught from a Christian perspective in a way that is transparent and vulnerable and full of love and empathy--and always pointing back to Jesus.

The first 8 lessons focus on the history of the First Peoples: how they lived off the land, the kinds of houses they lived in. We then move on to first encounters, the fur trade, alliances and treaties, wars and epidemics, and finally assimilation, segregation, reserves, and residential schools. We finish off with reconciliation and self-governance and hope for the future and God's heart for understanding and love and healing and restoration and revival (and yes, I know that's not grammatically correct). I don't shy away from the hard stuff, friends. This unit is special, and I think every single family whether you live in Canada or the United States or anywhere else in the world, will benefit from doing it. This is a unit of empathy: not in what is taught, but in a way that will be experienced.

That is why I decided to offer a free sample day. It isn't much, but it is something. As I was thinking about which lesson to do for the sample it was a hard pick. I didn't want to choose from just the history as I think there is so much more depth that we get into that I wanted to show. I didn't want to just stay focused on the ending because it is tough and it is important to understand the bigger picture first. So I focused on the middle. I hope that it will give you a glimpse into the heart behind this and to see how it can be used no matter where you are.
How it works (with pictures):
There are 20 lessons, arranged this way to go along with any of our main units. Remember, this is a mini unit, it is mostly focused on the topic and designed to be done as an add on. Let's see a sample week:

STEP 1 is to choose your levels. There are 6 different student notebooks from pre-reader (colouring and simple pages) all the way up to high school. The digital bundle includes the teachers guide and all levels of notebooks for $34.95 while the student books are $15 printed (on beautiful high quality 32 pound paper) or $20 for the teachers guide. We bind our student books with white and they are left bound unlike our other ones, this helps you to distinguish them from other units but also the TG from the student books (it's the little things).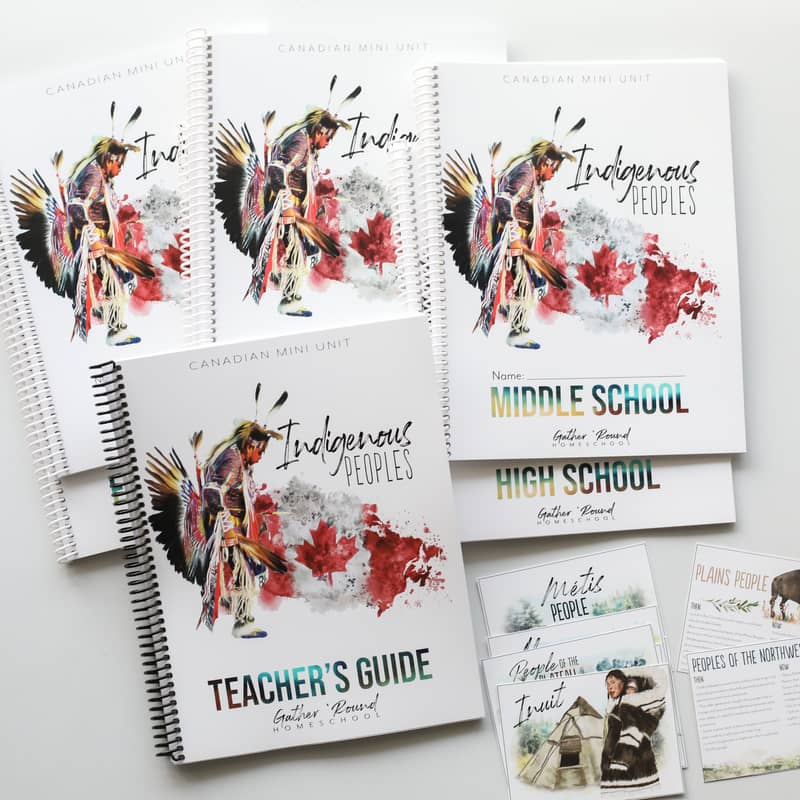 Monday:
Read in the teachers guide for 10-15 minutes. Beautiful custom illustrations and a clear, easy to read day at a glance tells you what to expect in your students' books.
Once you have finished reading (takes about 10 minutes) open up your student notebooks where there are two pages to complete each day: A notebooking page and one other. The first one of your week will likely be a timeline page (though we threw a few others in there on weeks we had no figures). Students will be adding to a timeline in the appendix.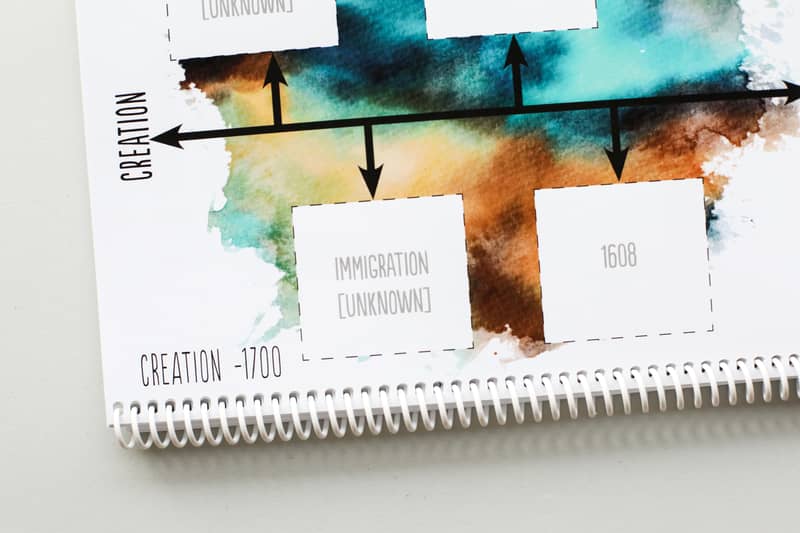 Tuesday:
Read again in the teachers guide (here is a look at the day at a glance)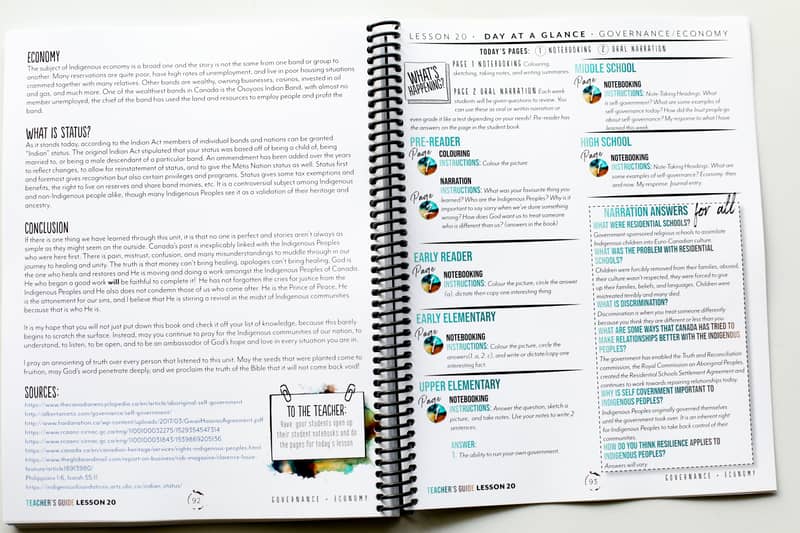 After reading in the book, you will find that every 4 lessons there are vocabulary pages. Students are taking vocabulary words and making a word wall, poster, lift-the-flap for a lap book or their notebook, or just using them to match up. You can do this however you want. They will also be working on their notebooking page which has mapping, dictation, written summations, and colouring/art.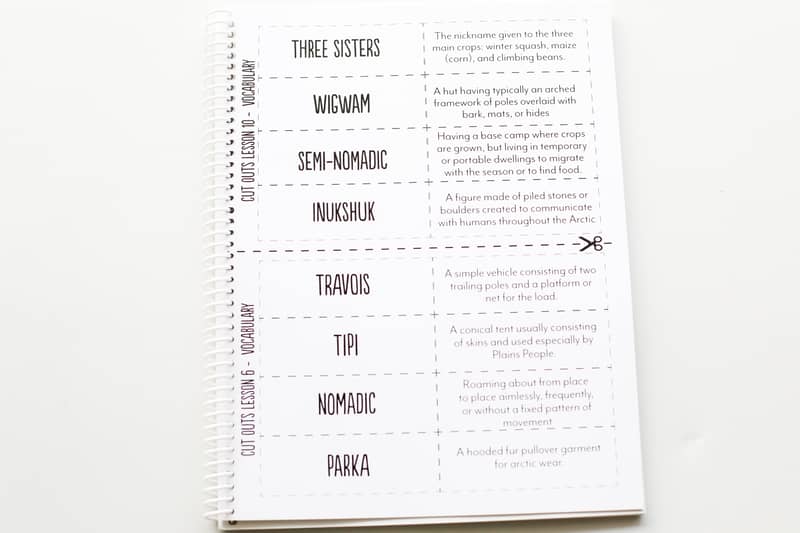 Wednesday:
Read again in the teachers guide and this time you will be working on a unit project. All students are doing this and I encourage you to set a date at the end for presentations. At the end students have a rubric to both assess their project but also to self-assess their work (SO important). Students can do posters, videos, slideshows, oral reports, lap books, stories, essays, or anything they'd like. Older students have more advanced topics. Of course, there is also a notebooking page on this day.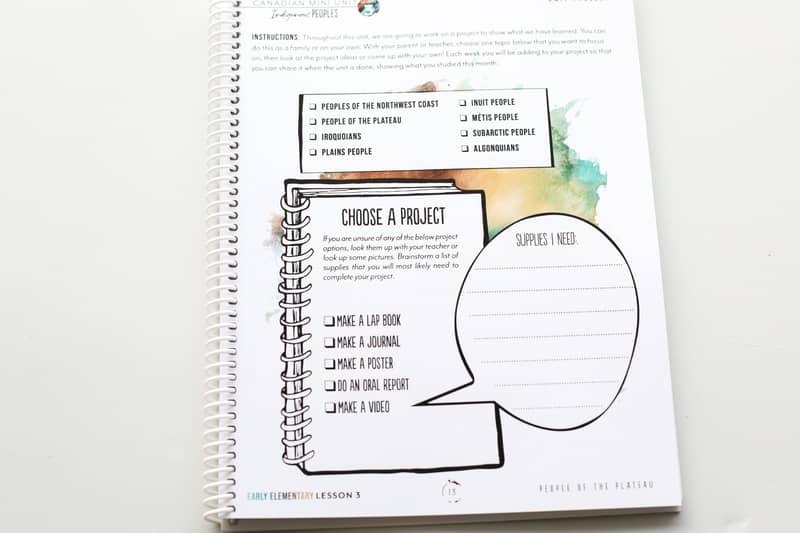 Thursday:
Read again in the teachers guide and this time you will be working on oral or written narration. We left this pretty open-ended but we do have answers in the teachers guide to simplify it for you. These questions get more in depth for older students and are a great opportunity to review without necessarily having to be more writing which they are already doing in their main units.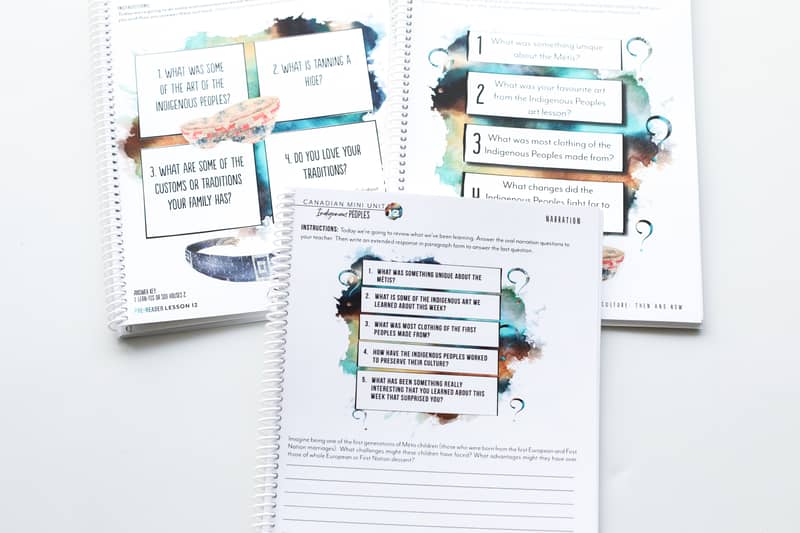 If you purchased the lifer package, this is already listed in your downloads (if you don't have it, email us, it might be in your junk) but for everyone else, this is an add-on and so so worth it. Our US history units will touch on Indigenous Peoples but not in this kind of depth. Try out the sample, see what you think, and if you like what you see, come on over and grab print or digital with our limited time special: Purchase the teachers and guide and 6 student notebooks PRINT and get the digital for FREE. Let's do this!